Kingston Trio DVD's
The Kingston Trio: 45th Anniversary Tribute
George Grove: Banjo Arrangements of the Kingston Trio
The Kingston Trio & Friends Reunion DVD
Ordering information for all Kingston Trio DVD's
---
The Kingston Trio 45th Anniversary DVD
FINALLY! The long-awaited Kingston Trio 45th Anniversary Tribute DVD, recorded live at the Birchmere Theater. Chock full of memories, this DVD features The Kingston Trio, The Limeliters, The Brothers Four and The Shaw Brothers. Ronnie Schell MC'd the show, and he's as funny as ever.
---
Banjo Arrangements of The Kingston Trio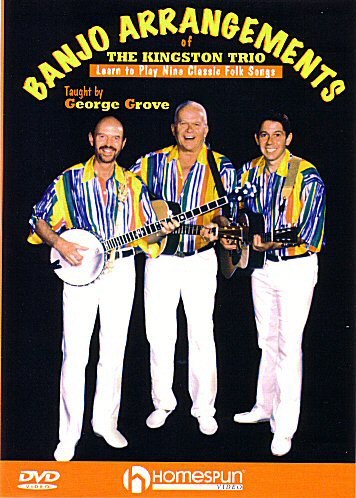 Learn to play nine Kingston Trio songs on the banjo, just like George does. His philosophy is "keep it simple", and I can attest to the fact that he does just that. George takes you step by step through openings and banjo breaks of all of these tunes:
Tom Dooley
M.T.A.
A Worried Man
Three Jolly Coachmen
Hard, Ain't It Hard
Corey, Corey
Early Morning Rain
Coast of California
and
Rolling River
So tune up your five-string, fire up the DVD player, and start learning the style that is uniquely
The Kingston Trio's
---
The Kingston Trio & Friends Reunion DVD

This is the uncut version! The 1981 PBS Reunion special featuring Bob Shane, Nick Reynolds, Dave Guard, John Stewart, George Grove, Roger Gambill. Hosted by Tommy Smothers and featuring special guest Mary Travers.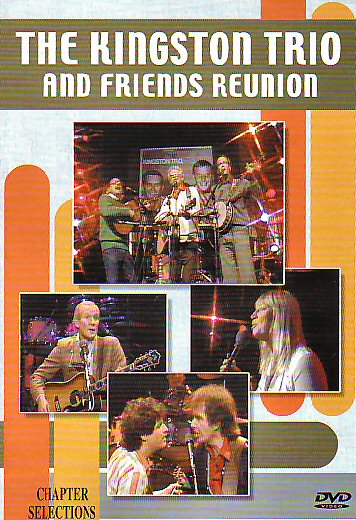 ---
A celebration of 50's & 60's folk music hosted by Tom and Dick Smothers and Judy Collins, this special features legendary folk artists of the era, including The Kingston Trio, The Limelighters, Glenn Yarborough, Roger McGuinn, and many others.